ARTRANSIT
AN EXPERIMENT
        IN VISUAL ARTS/POETRY COLLABORATION
SYDNEY/NEWCASTLE
 PUBLIC ART INFRASTRUCTURE
"…a singular surprise and delight…" Robert Holden
Since 1992 ARTRANSIT has been presenting a unique series of contemporary visual arts/poetry collaborations in poster form inside Sydney & Newcastle buses.
The decision was made in 1999 to terminate the series while it still had vitality & the capacity to surprise. Seven years was long enough to mark it as a project of substance enjoying critical attention  & exhibitions both in Australia & elsewhere
Over this time artworks have included one of the last pieces of work from the late Tony McGillick, stills from AFI award winning animations, sculpture, photography, outsider art  & a stunning landscape.
These are the poems chosen.
Poets: Michael Leunig, Pamela Brown , Grant Caldwell, Viv Kitson, Eric Beach, Les Wicks, Colleen Burke, Heather Cam, Andrew Denton, Jutta Sieverding, Richard Tipping, Alan Jefferies, Mark Miller, Christopher Kelen, Karen Attard, Lauren Williams, Joanne Burns, Jennifer Compton, Frances Rouse, Kate Humphrey, Leith Morton, Myron Lysenko, Jennifer Compton, Kevin Brophy, Susanne Lutherborrow & Joanne Burns.
Artists: Wendy Chandler, Philip Hammial, Tony McGillick, Kerry Gulliver, Kurt Brereton, Michael Leunig, Sarah King, Jo-anne Duggan, Peter Fitzpatrick, Viviana Sepulveda Flores, Sylvia Convey, Lisa Chandler, Mark S. Leabeater, Michael Schiavello, Lee Ann Rollins, Dennis Nicholson, Jane Wilson, John de Lombardo & Ron Hartree.
Published by Meuse Press,  edited by Les Wicks.
<![if !vml]>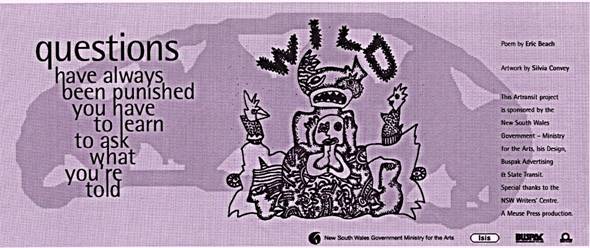 <![endif]>
¯
SERIES ONE
The TINY BOAT
God bless this tiny little Boat
& me who travels in it
It stays afloat for years & years
& sinks within a minute
& so the soul in which we sail
Unknown by years of thinking,
Is deeply felt & understood
The minute that it's sinking.
Poem & Graphic by Michael Leunig
¯¯¯
SYNCHRONICITY
Just then, someone said exactly what I was thinking-
"the landscape here is only marginally more interesting
than walking around with a paper bag over your head" -
which was what I had been thinking.
Poem by Pamela Brown. Graphic by Wendy Chandler.
¯¯¯
BEACH
Around our naked feet foams that day's tide.
A solid wind tosses breaking waves
to soft spume and our breath and words
crumble like sandhill's white;
                   stark against torn grey clouds.
Memory is the context, fixed now, final:
                   a winter's day, walking on the beach,
the water's patterns, changing clouds.
Poem by Viv Kitson, artwork Tony McGillick
¯¯¯
Mountains
Under my skin
mountains
take shape -
         curve of rock
crevice
texture
of blood.
Under my skin
shadows of
mountains
breathe
slowly
Poem by Colleen Burke. Graphic by Kerry Gulliver.
¯¯¯
aim FOR THE STARS!
He took the file photo of his boss.
15 years younger, a new canvas(s)
stretched smile, delinquent spots lounging
around the chin line & grey eyes mapped
with ambition....not yet stress.
Made photocopies, blow-ups.
Wore them like masks, that chocolate of power.
While the phone rang on uselessly, folded
the pages                 some origami then
watched the lot drift elegantly       into a recycling bin.
Wrote a few letters.
Lunch,                      
                            and the slaves are dancing.
Poem by Les Wicks. Sculpture by Philip Hammial.
¯¯¯
ON HER LOUD YELLOW WALKMAN
On the packed bus
a cry from the front -
Can someone give me a seat please?
I've only got one leg. . .
And with much movement and
shuffling
he gets his seat
a young man
barely twenty
and everyone becomes gravely silent
but for the girl
singing along with Madonna
on her loud yellow walkman.
Poem by Grant Caldwell. Artwork by Kurt Brereton.
¯
SERIES TWO
TWO/TOO
Tonight alone,
I turn down the sheets
and find a hair
- not mine.
It makes the bed too broad,
my night too long;
and in the morning
an orange has two halves,
the tea-bag is too strong
for one cup.
Poem by Heather Cam. Graphic by Sarah King.
¯¯¯
THE PIGEONS IN THE PARK
When I am at home
And it is almost dark
I like to take my legs out
And stroll down to the park.
And there I feed the pigeons
How I love to feed those birds!
I feed the scraps of bread
And I feed them friendly words
I feed them bits of gnocchi
And sometimes Freddo Frogs
And then, when they are nice & full,
I feed them to the dogs.
Poem by Andrew Denton. Photograph by Jo-anne Duggan.
¯¯¯
SPRING DAY
you know the ones I mean
the wind has subsided and
children are rolling in clover - literally
they're not looking for those four leaves
that spell luck
but I walk with my head bowed.
"Spring Day" by Jutta Sieverding. "Hear the Earth" by Richard Tipping.
¯¯¯
listen to the wind
listen to the wind
worried mind
and write the diary of the fishes
splashing through the leaves.
Poem by Alan Jefferies. Photograph by Peter Fitzpatrick.
¯
SERIES THREE
Flame-tree
I look out on red tongues
of the flame-tree
while you pad about
and prepare breakfast
I watch birds
loop and carol
the tree bursts
with the sun's flares
you dress quietly,
last night's grievance
smouldering within.
Poem by Mark Miller. Photograph by  Viviana Sepulveda Flores.
¯¯¯
TOLERANCE
An angel fallen into muck.
Your work's to see another way.
Dreaming and the waking world
are yet to settle up. Your skin
out there is what you wish, your
pale voice hoarse from shouting.
The place is all unfathomed sound.
In tin the lost words of the rain.
Pick from the ashes beams above.
Truth's voice out of air, its shell.
Poem by Christopher Kelen. Artwork by Lisa Chandler
¯¯¯
Like An Omen
As spring starts to simmer
wanderer butterflies
hot-foot it to the mountains,
blazoning burnt orange
and black wings: charred branches
on the ghosts of old flames.
Poem by Karen Attard. Artwork by Mark S. Leabeater.
¯¯¯
Sunset
With all the poems in the world
pressed to its chest
the sun balanced on the horizon
sagged like an old balloon
took the day deep into the bay
From his shiny car
the man watched the yellow light
between green and red
missed the yellow light
between sea and night.
Poem by Lauren Williams. Photograph by Michael Schiavello.
¯
SERIES FOUR
questions
have always
been punished
you have
to learn
to ask
what
you're
told
Poem by Eric Beach. Artwork by Sylvia Convey 
¯¯¯
GLOSS
Rain prickles the air,
camphor laurel leaves dip,
the cabbage tree palm reflection
slithers across the roof
of the red sports car
so mm--mm lipstick--shiny,
so mango--luscious,
so take me --
except through water trickling
down smoked glass,
the little orange light
blinks off, blinks on.
Poem by Frances Rouse. Artwork by Lee Ann Rollins .
¯¯¯
NAPKIN
morning dozes off in its deja vu jumpsuit
couch potatoes are being steam cleaned
poems evade the rumour of chopsticks
sashimi swims to the goldfish bowl
someone's lost in a club sandwich collage
most tea leaves are refusing to read.
Poem by Joanne Burns Artwork by Dennis Nicholson.
¯¯¯
CHERRY AND THE RIVER
The river is moving,
lorikeets are flying.
Why do we wait here
watching reflections of clouds
drift past?
You think
we wait for inspiration.
I am
waiting for the river to stop.
Poem by Kate Humphrey. Artwork by Wendy Chandler.
¯
SERIES FIVE
GLASS KATSURA
The air is like glass
The glass is brittle
I break in the air
How cold are the grasses
How empty is the air
- Leith Morton
SPRING
I bent
to kiss
a rose
and it
bit me.
<![if !supportLists]>- <![endif]>Myron Lysenko
¯¯¯
BLUE FLASH
The cloud must drift so the sun strikes the nail hole
in the corrugated iron so the horse dances sideways
on the thin shaft of light in the indoor arena - so I
am lifted across the bunkhouse kitchen by the flash
of blue loosed out of your eyes like laughter see me
dance sideways to switch on the kettle in a blue flash
the rider doesn't shift in the saddle she has her weight
low holds the heartbeat between her legs so I seek for
the blue thrill of your glancing blow.
Poem by Jennifer Compton . Artwork by Jane Wilson.
¯¯¯
Two Year Old Faith
On a day
when the sky
is a filthy sink
of fatty white
I ask him what colour is the sky
and he says blue.
Look I say
and ask again what colour?
He stares up
at the dullness of it
the low whited-out mist of it
and he says The sky is blue.
Poem by Kevin Brophy. Artwork by John de Lombardo.
¯¯¯
Pre-Dusk
I see the pre-dusk light
the colours pastel stroked soft
when the sun is behind as I rise
the moon in front as I fall
over the hill when I am still
the quiet is not quiet
but hushed everything anticipates
this night even the wind.
Poem by Susanne Lutherborrow. Artwork by Ron Hartree.
¯
<![if !vml]>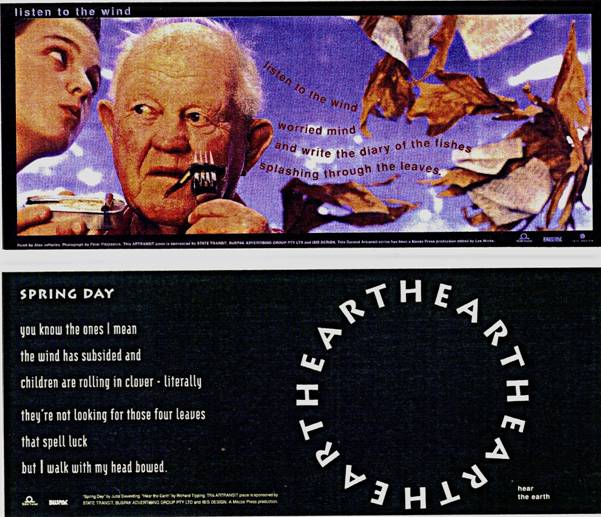 <![endif]>
Specially printed limited edition signed & numbered copies of the posters were produced.
For further enquiries contact: leswicks@hotmail.com
¯
OUR SPONSORS
(in order of joining)
State Transit
 ACTU-Aust Council Devolved arts Fund
Isis Design
the New South Wales Government - Ministry for the Arts
Buspak Advertising
the NSW Writers' Centre
Australian Centre for Photography
O'Kelly & Assoc